Products
KimFlex Braided Grommets Up to 16"
KimFlex Braided Grommets Up to 16"

KimFlex braided grommets are multi part grommets braided in a 9-strand configuration in two parts.

These grommets offer excellent handling characteristics.

The typical construction of a KIMFLEX grommet is 18x(6x36+IWRC).

Future Synthetic has developed our unique Crush Buster, a device which is manufactured and incorporated at each end of the grommet to reduces crushing and distortion of the grommet at the bearing contact points during lifting. Independent testing under ABS witness has proven the effectiveness of this device in reducing damage to the grommet.

Future Synthetic KIMFLEX grommets are produced "Twist Free" to ensure ease of use.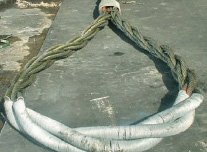 KimSwage Flemish Eye Slings Up to 6" KimSwage slings are large...

Cable Laid Slings – Hand Spliced Up to 17.4"" Hand spliced cable...

Cable Laid Grommets Up to 16"