Products
KimSwage Flemish Eye Slings Up to 6"
KimSwage Flemish Eye Slings Up to 6"

KimSwage slings are large diameter wire rope slings using a single wire rope with a Flemish eye splice. This new product range eliminates the need to use a braided or cable laid sling for the lower range of heavy lift slings.

The KimSwage range has outstanding flexibility and ease of handling that is similar to a single wire rope. The range is available in 4-1/2" (114mm), 5.0" (127mm) and 6.0" (152mm) diameters. The 6.0" diameter sling is made from an 8-strand wire rope for increased flexibility.

The KimSwage range is made to the same strict tolerances as our KimFlex and cable laid slings.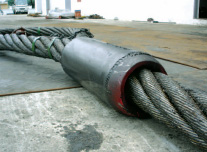 Cable Laid Slings – Hand Spliced Up to 17.4"" Hand spliced cable...

Cable Laid Grommets Up to 16"

KimLock Cable Laid Slings – Resin Socketed Up to 17.4" The...