Products
Crosby 416 / 417 / 402 Alloy Snatch Blocks
All Alloy Snatch Blocks
• Entire block made from heat treated alloy steel. Use of heat treated alloy gives block only 60% of
the weight of blocks of comparable capacities.
• Available with a bronze bushed or roller bearing sheaves.
• Easy opening feature of "Champion" blocks retained.
• Hook and shackle assemblies can be interchanged.
• Pressure lube fittings.
• Can be furnished with hook latch.
• Blocks furnished with dual rated wireline sheaves.
• Fatigue Rated.
• Meets or exceeds all requirements of ASME B30.26 including identification, ductility, design factor,
proof load and temperature requirements. Importantly, these blocks meet other critical
• performance requirements including fatigue life, impact properties and material traceability, not
addressed by ASME B30.26.
• All sizes are RFID EQUIPPED.
Download PDF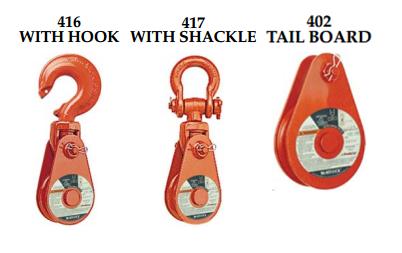 Fast Connector Sockets with Bolts & Nuts

Standard Reeve Crane Blocks

Snatch Blocks